Chiropractor Glenn Stengel D.C.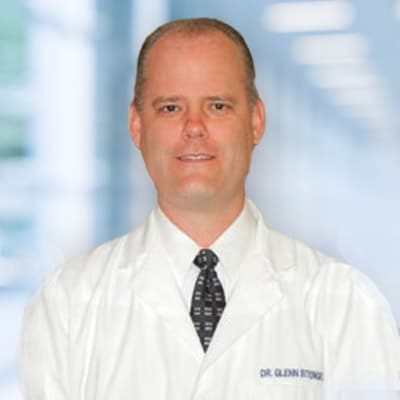 I was skeptical that a chiropractor could help me, but I went anyway out of desperation for pain relief. That day changed my life forever...
When I was growing up, my older sister used to say, "I wish I could go to a chiropractor and have him 'pop' every bone in my body. That would feel soooooo good!"
I thought she was crazy…why would anyone actually wish to go to a chiropractor if they didn't need to? I didn't even like to "pop" the knuckles of my hands, so letting someone "pop" the rest of the bones in my body, especially in my back and neck, seemed way too scary for me. My sister can go if she wants, but count me out!
When I was in high school, I hurt my neck badly while exercising. My best friend urged me to see his dad who was a chiropractor. Not knowing much about the profession, I was skeptical that he could help me (and I was scared to death), but I went anyway out of desperation for pain relief. That day changed my life forever. Not only did he help rid my pain, but he also spent an hour explaining my condition and the philosophy of chiropractic care. After reading a few books about chiropractic that he lent to me, I was hooked. I loved the simplicity and logical nature of chiropractic. Eventually, I became convinced that this is what I wanted to do for the rest of my life, so I chose chiropractic as my career.
---
Chiropractic Education
After completing my undergraduate studies at Ohio University, I attended Palmer College of Chiropractic in Davenport, Iowa. While I completed the rigorous core chiropractic curriculum, I also placed special emphasis on sports injury and extremity adjusting; as such, I interned with a prominent local chiropractor, taught fellow students in the sports injury club, assisted teaching at extremity technique seminars, and assisted teaching at the International Conference on Carpal Tunnel Syndrome in Chicago, Illinois.
I graduated summa cum laude as class valedictorian with a Doctor of Chiropractic degree in February of 1996. I have also attained an undergraduate Bachelor of Science degree. While graduation day from chiropractic college was one of the happiest days of my life, it was certainly the scariest – I was so nervous that I thought I would actually pass out while standing at the podium delivering the valedictory speech in that auditorium filled with so many doctors, faculty members, and families! I still get nervous thinking about that day.
While broad in scope, my post-graduate education has included special emphasis on neurology, orthopedics, rehabilitation, nutrition, spinal trauma, and new treatment technologies including low-level laser therapy and spinal decompression therapy. I have received special certification in the evaluation and treatment of spinal trauma and whiplash disorders from the Spine Research Institute of San Diego.
I've been blessed with the opportunity to work with Willis ChiroMed my entire career. I started as a treating physician and clinic director shortly after graduating in 1996. In addition to maintaining my growing practice, I was promoted to Director of Operations for Willis ChiroMed in 2001. I purchased my practice in 2004, but elected to retain ties with and the name of Willis ChiroMed since the corporation has such a sterling reputation throughout the state.
---
Outside the Office
When I'm not in the office helping patients, I spend the majority of my time with my family. I am married to a wonderful, beautiful woman. Kim and I met at St. Andrew's church in 2003. When I learned that she shared my love of Harley Davidson motorcycles, Dallas Cowboys football, and health care (she is a veterinarian), I knew that she was special. But it was our shared love of our lord, Jesus Christ, and our Catholic Christian faith that sealed the deal…we married in 2005. Since then, we've been blessed with two children – Jacob and Abigail – who have kept us running all day and night. I also enjoy camping, cooking, and studying scripture and early church history. I have the worlds biggest sweet-tooth (that's a hint to all you patients that enjoy baking cookies) and also love the hottest, spiciest chicken wings that can be made. I realize these aren't the healthiest diet choices, but we all have our vices, don't we? Just remember: everything in moderation.
I hope to get the opportunity to meet you in person to discuss your specific health challenges. I will give you an honest assessment of your condition and, if we decide that chiropractic can help you, I promise to give you the best care I can offer. Since we have good relationships with other local health professionals, if we decide that another specialty would better suit your condition, then we will offer to make an appropriate referral appointment for you.
OFFICE HOURS
---
Monday
8:00am - 12:00pm
2:00pm - 6:00pm
---
Tuesday
9:00am - 12:00pm
2:00pm - 6:00pm
---
Wednesday
8:00am - 12:00pm
2:00pm - 6:00pm
---
Thursday
9:00am - 12:00pm
2:00pm - 6:00pm
---
Friday
8:00am - 12:00pm
2:00pm - 6:00pm
---
Saturday
Closed